about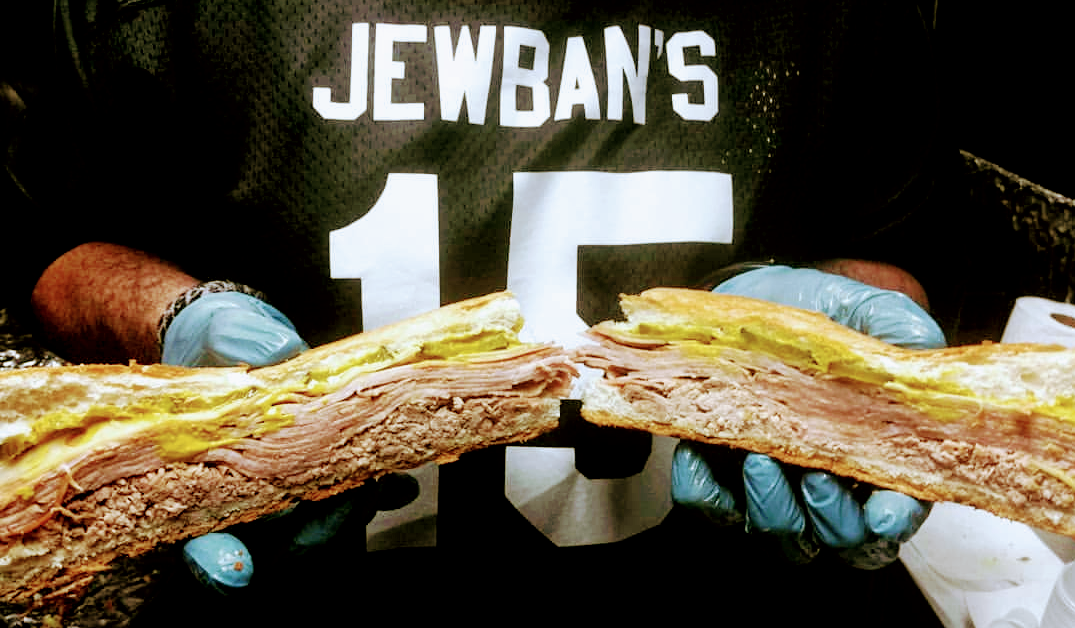 Featured in: Naples Daily News April 5, 2017 Marco Eagle April 7, 2017 Southwest Florida Forks April 12, 2017 Naples Weekly April 13, 2017
The News Press 'Off the Eaten Path' May 31, 2017 USA Today May 31, 2017 Naples Daily News June 7, 2017
​News Press Taste September 20, 2017 Crush Magazine Sept/Oct 2017
JewBan's offers catering services for offices, parties, special occasions. We specialize in Cuban & Jewish, time tested, generations old, family recipes...
with a little twist.... and coming to an EVENT NEAR YOU.
Scratch made Pastrami, Corned Beef, Roast Pork, Empanadas, Ham, Deli Pickles, Pica Dillo, Black Beans, Congri, Chicken Soup, Matzo Balls, Kuggle, Tostones,
Picadillo, LaRopaVieja, Brisket, Noodle Kugel, Drunk Plantains, Plaintain Chips, Desserts, Virgin Mohitos, Slaw, Raspberry Vinaigrette,
and more... with twists along the way!
Signature Sauces: You're Gonna Need a Mint Sauce, Dip, Whatever... & No Name, Just Delicious Hot Sauce
We use the freshest local ingredients, supporting local farmers and businesses.
Contact Us to Arrange for Your Office or Business Have Us Set Up for Lunches & Special Events...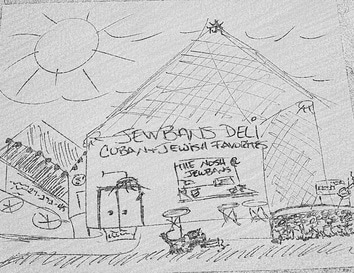 JewBan's Deli Dale, LLC is a Food Truck & Catering Company specializing in Cuban & Jewish Traditional Favorites… with a Twist.
We Offer Set Up in Either Food Truck or Pop Up or Both
Full Service Catering Services Indoors & Outdoors
We carry all required State Licensing, Insurance & Food Handling Certifications
Office Parks, Private Parties, Catering Large & Small Events, Apartment Complexes, Private Parties, House Parties, Farmers Markets, Breweries, Small Office Events, Hospitals, Senior Living Communities, City & County Events, Employee Appreciation Events, Neighborhood Communities, Corporate Offices, Festivals, Family Reunions, Grand Openings, Customer Appreciation Events, Weddings, Bar & Bat Mitzvahs and anything where food & fun is on the agenda!
CONTACT to schedule your event. 727-272-4576 . jewbansdeli@aol.com . @JewBansDeliDaleReferences:
Contact information for the following provided upon request
Alzheimer's Association, T Mobile, Tampa Bay Markets, Downtown Dunedin Market, Top Of The World Community, YMCA, Hillsborough County Lunch in the Park Joe Chillura Square, Cigar City Brewing, Clearwater Marine Aquarium, GulfPort Merchants Association, Honeywell Corporate Office Park, Hyde Park Village, Barley Mow Brewing Company, GE Aviation, Florida Country Citrus, Lexington Park Apartments, 5 West Apartment Community, Cage Brewery, Florida Orange Groves Winery, Muldoons, Strong Tower Vineyard, Cott Beverage Office Park, Parallon Office Park, WellCare Office Park, Odyssey Marine Exploration, Park Place Office Park, First Light Home Care, Floor & Décor Center, Nestor Sales, Florida Hospital, Rose Castle Senior Living Community, DeBine Brewing Company, Big Storm Brewery, Ramirez Family Graduation Party, Lopez Wedding After Party, Zak Blank Bar Mitzvah Party, The Hotel Zamora, St Pete Brewing, The Go Agency, Marriott International, Breezy Boards, Leann's Cheesecake, City of Tapon Springs, Harbour Island, P3 Marketing, Good Karma Café, Ybor City Cigar City Cider & Mead, Brandon YMCA, Boca Ciega Senior Community, First Light, Safety Harbour Market on Main, Swope&Rondant PA, Sudgen Park, Oil Well Craft Beer, Collier County Court House, Barron Collier High School, NCH Farmers Market, Susan G Komen Foundation, Momentum Brewhouse, Isle of Collier Preserve, Naples Square, Millennial Brewing, NCH Business Office, Naples Beach Brewing, RipTide Brewing, BCHC Bonita Springs, Collier County Government Complex, Harley Davidson, Brotherhood Ride Foundation, Island Walk Community Association, Eva's Closet, Del Webb Community, Shadow Wood Country Club Bonita Springs, Village Walk Community, Orange Blossom Community, NCH Healthcare, CarMax, Center Point Church, Wonder Gardens, Robb & Stuckey, Point Ybel, Brass Tap, & more.....
We Accept All Major Credit Cards
Vegan & Special Requests Welcomed
www.jewbansdelidale.com Follow Us & Like Us On Facebook, Instagram & Twitter
---